SKY KYO
ideas for when S.A.D. sucks ass ❄️🥶
When you have SAD (Seasonal Affective Disorder) it can feel like the Ice King hates you. For SAD sufferers the depression is real, and can srsly send life into the shitter--sleeping, crying, binge drinking, binge eating, or even struggling with suicidal thoughts--for up to SIX MONTHS. That. Blows. If you have SAD or think you might, you can be proactive af in order to help prevent some really low lows. There are a ton of tips and tricks online, but here are some of my faves.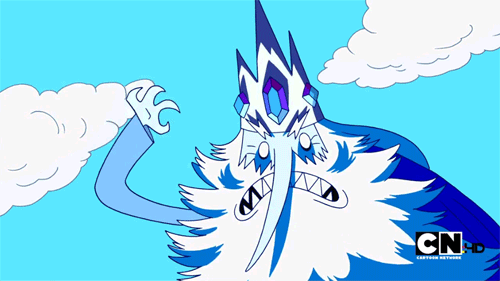 ❄️ Make a playlist Ice, Ice Baby is the first song on mine. Happy tunes can help elevate your mood, and something on-theme can help you begin to shift your relationship with the idea of Winter (many people with severe SAD hate Winter because they feel victimized by it, and/or they associate it with feeling like shit, which is reasonable, but not helpful. We're tryna build good vibes here).
❄️ Vitamin D for the win! D3 is the sunlight vitamin. Taking supplements (avail over the counter) can be super helpful in keeping your energy levels up. You might even want to go to the Dr, if you can, and get your D levels tested. Some people need to take a shit-ton to get back to healthy levels, and getting a max dose prescribed can be easier. ❄️ Sunlight Lamps Speaking of D3, sunlight lamps can help with that, and also help regulate your energy patterns. Personally, I turn mine on when the sun begins to go down (like 4pm, yipes) and keep it shining right in my face til like 8pm. It makes a *huge* difference in feeling alert and awake until I'm ready to call it a day.
❄️ Get yellow sunglasses This is my fave hack. Yellow-lens glasses are often sold super cheap as night driving glasses, or safety glasses. The yellow lenses send fake sun to your eyeballs, so I wear them to do things like walk my dog, and the world seems warmer and more friendly, and I feel like I'm surrounded by sunshine! It can literally transform a gloomy day. ❄️ Surround yourself in bright colors Bright clothes, fresh flowers or a houseplant in your space, bright paint on the walls, bright socks. Whatever. I know bright colors aren't everyone's thing, but brainwashing yourself with color therapy can be super effective, and worth the pain of wearing bright yellow when you feel grumpy af. ❄️ Find something you can tolerate-or even enjoy-for the season
One year I posted a different Polar Bear pic on FB every day. (Free & easy, my fave!) Depending on your resources and preferences, you can do fun stuff like try a new kind of hot chocolate every week and blog your reviews, learn how to make scarves for your frens, volunteer at a shelter that helps keep stray animals protected from the weather, or take up hot yoga to keep you relaxed and warm! ❄️ Limit your hibernation time It's so hard when you just want to hide under the covers! But staying active can make a huge difference in your mood. I'm not sayin don't enjoy a pile of blankets, and cuddles from frens, fam, lovers, or furry frens can provide mood-boosting oxytocin, so have at it, but make sure you're not cancelling gym time for an extra hour of coziness. ❄️ Reign in a Winter appetite As soon as Autumn drops, I start to feel like Pac Man. My appetite is *insane*! In order to keep myself from totally overthrowing my diet, I switch all my meals to hot meals, I make sure I have hot drinks available (like herb tea or chicken broth, no extra calories there) and I don't beat myself up if I really want some carbs. I make sure I can still enjoy the season by drinking apple tea instead of cider, and eating pumpkin seeds instead of pie. But that's just me, for my diet, you gotta figure out what works for you. ❄️ Make Winter your bitch
Or your friend, whatever attitude works for you. But have as much *fun* as you can. Watch comedy on youtube. Go iceskating. See your friends. Take on online class on Icelandic Mythology. And if you do end up grumpy, or sad, or whatever, don't give yourself a hard time about it. It can take a few Winters to figure out what works best for you. You're doing the best you can, and that is the most important thing. Stay warm, kids. ⛄ If you are ever feeling suicidal, plz reach out to your local crisis hotline. You are sooo not alone, and there's help and support out there for you. 💙 ****************** This is what works for me. #imaketherules
It might not be what's best for you. #makeyourownrules #thinkforyourself